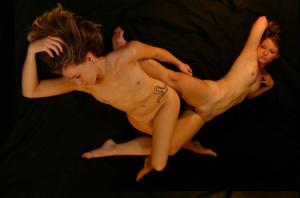 Now available on Fine Art America
Featured N*des-of-the-Month from Barebrush Gallery in New York

"Cherubim" by BlindWolf Photographer, T. F. McDonald

T.F. McDonald says of the piece titled "Cherubim"

"This is part of a series of nudes emulating classical works of art. Here the "less than perfect" human form becomes more than shadows placed to show strategic body parts. This shows that the human form in its entirety, like any other miracle of nature, can simply become part of a greater composition. The piece is also intentionally filled with the ancient feminine symbol of the "V" further reinforcing the emulation of artists of the classical period."

The feature was awarded in a juried selection by guest curator James Patrick Reid, artist and art lecturer

"The relations among the shapes, expressing the depth, the volumes and the life of the figures, impressed me with their strength." 

Artist and art lecturer James Patrick Reid...